Super Triton Experimental Dreadnought
Talk

1
Naval Units
Cruiser/Destroyer
Battleship
Submarine
Aircraft Carrier
Bombardment
Experimental Units
Major Land
Major Air
Minor Land
Air Transport
Other Minor Air
Naval
Submarine
Misc
UEF Super Triton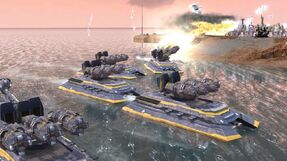 Experimental Dreadnought
Build Costs
Experience
1500
Health

30000 (+60/sec)
Speed
to 5 ()
Intel (Radius)
Vision: 50
Water Vision: 50
Radar: 75
Sonar: 75

This unit was included with the Infinite War Battle Pack One DLC.
The Super Triton Experimental Dreadnought is a new naval experimental unit for the UEF. It has three large turrets on top of the vessel, as well as 24 gauss cannons mounted on its sides, 9 on either side and 6 on the front. It moves fast for a vessel of its size.
The three main cannons have a similar appearance to the cannons on the hands of the King Kriptor.
The cannons have the appearance of huge flame-ball throwers, and do around 300 damage per hit (700 with training, and 1000 with veterancy.
[1] Experimental dreadnought
Build Costs
Experience
3000
Health
30000 (+113/sec)
Speed
0 to 3(naval)
Intel (Radius)
Vision: 75
Water Vision: 75
The Triton will devastate anything in its path but has no defense against Aerial units, bring support to cover it.
The Gauss cannons have a smaller range than it's main cannons, so move closer to increase damage output.
The Triton is vulnerable to teleporting groups of Yenzoo Tanks, especially if they have their torpedo upgrade, but it's main weapon will destroy large numbers very quickly.