Since supreme commander this map has been mirrored, however, it is still a popular 1v1 map (despite being labeled ffa) as it has 2 sides and lots of yummy mass! Each player starts in one of the horseshoe shaped cliffs
Tips for playing this map:
Never build in back against cybran as they have bots which also get a speed upgrade. You WONT be able to catch them and they will destroy the mass you build.
The choke point wont be the only place that combat takes place, try to attack around the sides to give your opponent multiple battles to worry about.
Get a factory with a shield and a PD in front of it to aid against incoming attackers.
ALWAYS, ALWAYS, ALWAYS NO MATTER WHAT build an air factory against cybran, even if you are cybran. They get AA late in the form of adaptors which have weak shields, cost 250(ish) mass and require lots of research. This offsets their production of land and research of experimentals.
A good strategy is to get your mass and then get your acu to get the 3 points near the center, and an engineer to build 2 energy, then get mass on left or right, and the second engineer to get the other set of mass, then spam facs, I have not lost with this, it is ridiculous!!! BEST PLAYED WITH CYBRANS COST REDUCTION AND RADAR INCREASE!!!
SC1 and SC2 comparison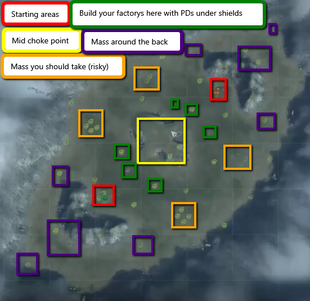 LINK to a competitive game: https://www.youtube.com/watch?v=eGwaF7ATgCs I DO NOT OWN THIS, BUT IT IS NOT INFRIGMENT OF COPYRIGHT IF IT IS A LINK TO A PUBLIC WEBSITE
Ad blocker interference detected!
Wikia is a free-to-use site that makes money from advertising. We have a modified experience for viewers using ad blockers

Wikia is not accessible if you've made further modifications. Remove the custom ad blocker rule(s) and the page will load as expected.