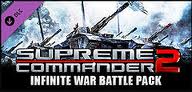 The
Infinite War Battle Pack One DLC
was released on the 28th of October and includes several new maps and units. The DLC was first announced by Youtube promotional videos, being shown along with strategies and other comments by members of Gas Powered Games. The DLC for the Xbox 360 is limited to the maps and not the units or new technology.

The DLC includes a multitude of new multiplayer maps, including the infamous Igneous. The DLC also included more AI options for the skirmish and multiplayer matches, such as modifying how the opponent can cheat. These variables include the amount of boost AI gets for its economy, research, intel radius and which units it will use.
Chris Taylor also mentioned that the members of Gas Powered Games 'heard' its members at the fanbase, desiring the infamous Monkeylord from Vanilla Supreme Commander, and rewarded them with a completed identical representation of the unit. Along with this, many other units were introduced across all the factions.
In addition to this, the DLC also fixed several minor problems Supreme Commander 2 had experienced, and overall improved the accuracy and efficiency of the gameplay the game has to offer.
The DLC costs $4.99 on Steam and 9.99 on Xbox 360: http://store.steampowered.com/app/40135/
The DLC for the Xbox 360 version, however, is only the map pack and does not include units:  Xbox Marketplace: Infinite War Map Pack
The DLC includes these new units:
The DLC includes these new maps:
Ad blocker interference detected!
Wikia is a free-to-use site that makes money from advertising. We have a modified experience for viewers using ad blockers

Wikia is not accessible if you've made further modifications. Remove the custom ad blocker rule(s) and the page will load as expected.