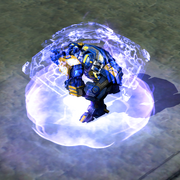 Hunkering is an ability that may be accessed by research that may be used by ACUs, Loyalists and Illuminate Point Defenses.
When activated the unit "kneels down" and creates a protective shield around itself, reducing incoming damage by 50%. It is not possible to move, use weapons or activate abilities whilst hunkered down. You also cannot be healed (externally) whilst hunkered.
It should be noted that Hunker is not considered an active ability. As such, effects that would apply to the ACU while idle still function while Hunkered. In particular, the Cybran ACU's Dynamic Power Shunt upgrade, which generates extra energy while idle, continues to generate extra energy while Hunkered. Obviously then, if you intend to let your Cybran ACU idle as a souped-up Energy Generator, you might as well Hunker it for added defense.
While Hunkered, a unit is not affected by the pushing or pulling from a magnetron, or by units trying to push past. It is a good strategy if enemy's are sending in nukes
Ad blocker interference detected!
Wikia is a free-to-use site that makes money from advertising. We have a modified experience for viewers using ad blockers

Wikia is not accessible if you've made further modifications. Remove the custom ad blocker rule(s) and the page will load as expected.